press
---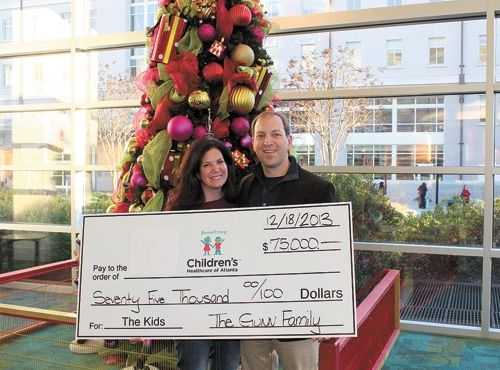 January 2014 Mark and Layla Gunn raised and contributed $75,000 to Children's Healthcare of Atlanta to help fund an eye-tracking device that can help identify signs of autism in children as young as 12 months.
The eye-tracking device creates the potential to move diagnosis from a subjective screening measure to a quantitative test that can significantly enhance the positive impact of early intervention for children with autism spectrum disorders.
---
11 Alive TV in Atlanta aired the wonderful story of Pure Imagination and Katelyn and Mary's Riding Adventure! From a Hot Air Balloon Ride to a Horse Drawn Carriage to Mary Poppins flying with her umbrella!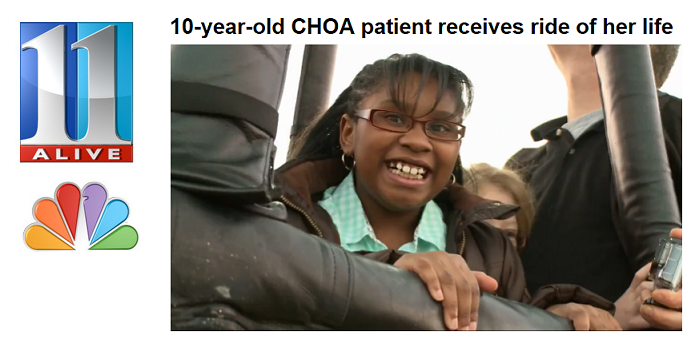 More Coverage of Katelyn and Mary's Adventure:
Gainesville Times: Forsyth girl gets a high-flying adventure
North Fulton: Friends get a flying adventure in Forsyth County
Marco Island, FL: Sick girl surprised with the best day of her life
WBIR - Knoxville, TN: Katelyn Duvall
WTSP - Tampa, FL: High Flying Adventure
---
"Fondue It Forward"
To help get her cookie badge, Pure Imagination Charity purchased 300 boxes of cookies from Ana, a seven-year-old Scout and patient at Children's Healthcare of Atlanta that was unable to sell cookies after suffering a stroke. Then we hosted an event at the The Melting Pot in Midtown on Sunday, March 3 in Ana's honor. Guests enjoyed an afternoon of Girl Scout cookie-inspired fondue fun with a portion of the proceeds being donation to Children's Healthcare of Atlanta.
---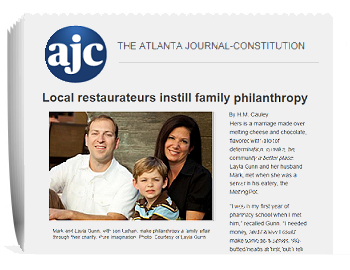 The Atlanta Journal-Constitution honored Mark and Layla Gunn, with their son Lathan, for all that Pure Imagination has done for children in Atlanta.
---