Congratulations
Julia and Mary!
These two very Generous Children have been named as:
2014 Pure Imagination Ambassadors
Both Julia and Mary were named as Ambassadors for their hard work and commitment. Both have enrolled in, raised money for, and participated in Pure Imagination Charity adventures.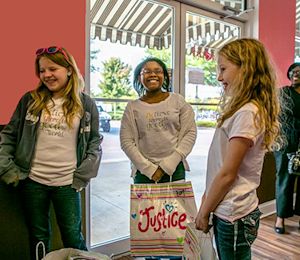 They met Children's Healthcare of Atlanta patient, Katelyn, in the spring when Mary raised money for an adventure and took Katelyn on a hot air balloon ride. Since that time the three girls have formed an amazing friendship. Mary and Julia spend time with Kateyln - even visiting her at the hospital. We surprised all three girls with a day of shopping and pampering before they were whisked away to the Selena Gomez concert!